AGM 2020 NEWS
We would like to thank all our campers who donated in the 2019 season to the GNAA. This year we handed over £1140.80 to support our Chairmans Charity.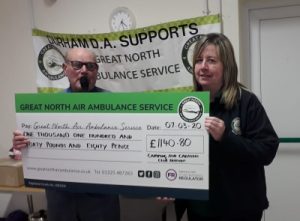 At this years AGM we were successful in forming a full committee for the coming year. We would like to welcome Nicola and Gavin Curry who are new to the committee.
We would like to thank 3 members of last years committee who stood down this year. Andy (Chairman 2019) Carol (Pennon Officer) and Melvin (President) all dedicated many years to Durham DA.